Digging up dirt on Lake Street dinosaurs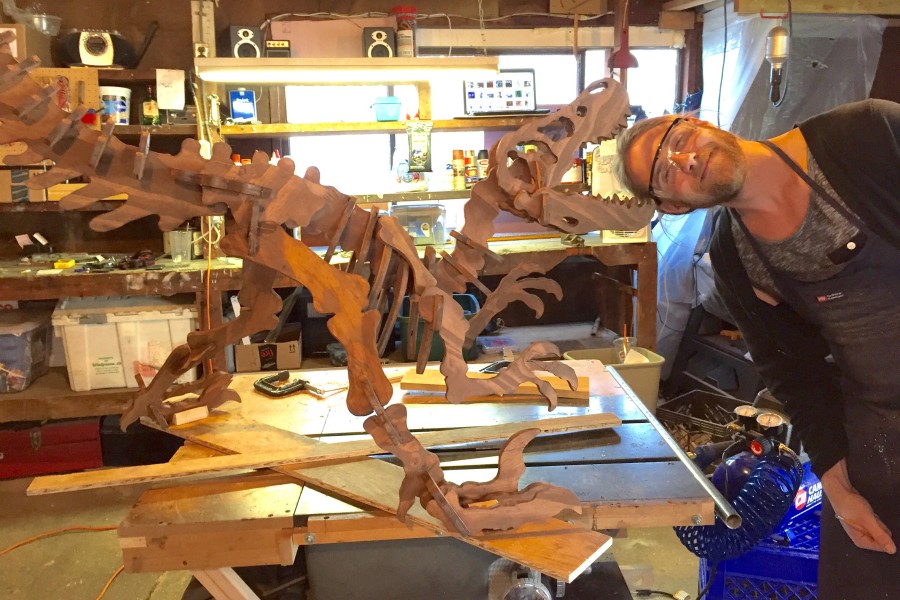 Hang on for a minute...we're trying to find some more stories you might like.
What's up with the dinosaurs on Lake Street? It's a question that has been floating around ever since the dinosaurs started popping up in the front lawn on Lake Street.
The dinosaurs were created by 13 year Grayslake resident and private music teacher Mike Pollitt, who has always loved dinosaurs and just wanted to bring something new to this town.
Pollitt was motivated by a few things to display the dinosaurs in his front yard.
"As a kid, I loved dinosaurs," said Pollitt. "I was going to be an archeologist or a paleontologist when I grew up. I used to build these [dinosaur wood kits]."
The dinosaur wood kits contained pieces of thin wood sheets and the builder would punch the pieces out and then build a small model dinosaur by following the instructions.
Pollitt's father was a woodworker, and Pollitt always wanted his father to build giant versions of his puzzles. When Pollitt's roommate said she wanted something in her front yard, Pollitt suggested that he build the big dinosaurs he always wanted.
Pollitt puts forth much effort to make sure that the dinosaurs come out looking their best.
"I take those puzzles and at first I just study them for awhile," said Pollitt. "I take them apart and I rebuild them. I figure out how the pieces kind of go together and I figure out what pieces I need and then I print them…on a piece of laminate."
From there, he projects the paper onto a piece of plywood and traces each piece. Then he uses his saws to cut out each piece.
Right now, the bases are made of stacked up plywood and covered in foam. After that, the foam is carved and painted to look like red rock.
"Basically what I built are big plywood sails for my front yard, so when it gets windy they just topple right over," said Pollitt.  "So, I have to be creative with it and I have to be clever with how to build a base for them to stand up."
Despite all the work and thought he puts in, it is not his job but really all of this is just a way for him to take a break from music.
"I really love music," said Pollitt. "That's my main focus [and] my primary source of living. This is just to do something different with my hands. You need a break."
One of his intentions was to have the dinosaurs add something to Grayslake.
"I like things just to add a little culture to an already pretty cool town," said Pollitt. "No other towns have the house with the dinosaurs. We do."
Being the house with the dinosaurs has even helped when ordering pizza. Pollitt no longer gives his address but just says he has dinosaurs in his front yard.
"I get my pizza every time," said Pollitt.
The dinosaurs are definitely a unique addition to the town, and Pollitt's goal of people noticing has been accomplished.
"Thanks for being interested," said Pollitt. "It worked."