Wrestlers battle through IHSA State Series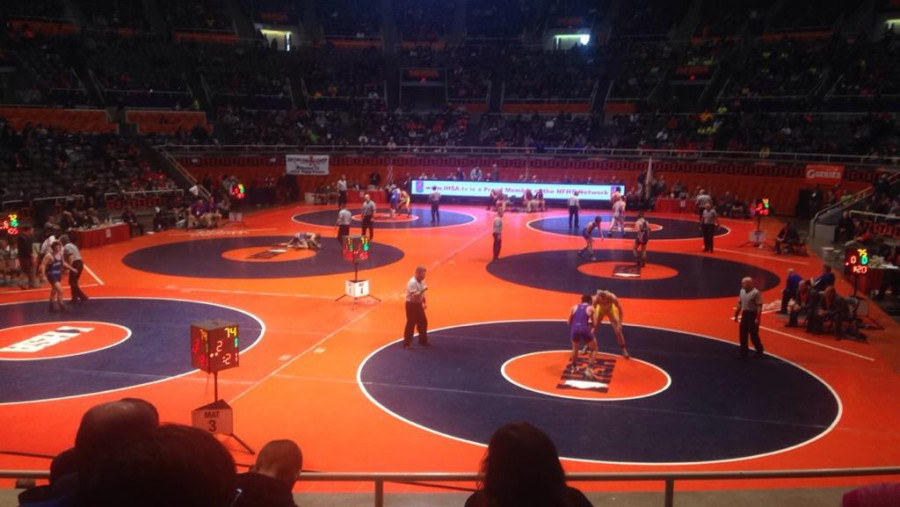 Hang on for a minute...we're trying to find some more stories you might like.
The boys wrestling team ended the season on a successful note. Weeks of preparation prior to the season and constant hard work finally paid off as the team entered the IHSA State Series, which consists of Regionals, Sectionals and then State.
"We practice twice a day sometimes, work out on Sundays and lack a typical high school student life for approximately four months in order to meet the commitment that this awesome sport requires," said head coach Mark Stewart. "Wrestling at the varsity level is essentially a full-time job."
On Feb. 7 at Vernon Hills High School, seven wrestlers out of the 12 weight classes advanced to Sectionals by placing 1st, 2nd or 3rd.
Freshman Austin Connelly placed 2nd in the 106 weight class, junior Collin Pogue placed 3rd in the 138 weight class, junior Lawrence Augustin placed 2nd in the 132 weight class, junior Joey Tarnowski placed 1st in the 126 weight class, senior Jon Makey placed first in the 152 weight class, senior David Theil placed 1st in the 182 weight class and junior Richard Novrouzov placed 2nd in the 220 weight class.
As a team, they took 5th in the tournament out of the nine teams present. Those seven wrestlers moved onto Sectionals.
The Antioch Sectional had many successful wrestling programs. One program was Montini Catholic's, which won the state championship as a team in 2014 and Richmond Burton's individual wrestlers included sophomore Gavin Sutton, who is ranked 11th in state for the 126 weight class, and senior Grant Sutton who is ranked 2nd for the 132 weight class.
On Feb. 14, the team competed in Antioch at Sectionals Makey lost 3-1 to senior Luke Fortuna from Montini in the championship, but both advancing to State. Theil took 4th, advanced to State along with Novrouzov who took 4th as well. Novrouzov advanced to State with a record of 20-24.
The following weekend, Makey defeated sophomore Jake Kirkman of Lemont High School 13-4. Thiel lost his first match 5-1 and Novrouzov was defeated 5-1.
At the IHSA State tournament, if the person who defeats you wins in the next round, you enter the wrestlebacks. For Novrouzov, the person who defeated him won again in the second round, so he got the chance to wrestle in the wrestlebacks.
Makey was matched up with senior Chase Vosburgh of Mt. Vernon High School, who placed 3rd in state the previous year. Makey lost 10-2, and entered the wrestlebacks after Vosburgh defeated senior Nick Remke of Marian Central.
Makey was defeated 9-4 by junior Vaughn Hobart of Pontiac High School. Novrouzov was pinned in the first round of the wrestlebacks by senior Lane Akre of Geneseo High School.  Fortuna would wind up winning the state championship, defeating Vosburgh.
For Stewart's first year as a head coach, the team's success was a result of adapting new coaching techniques to help the team. Stewart lets his wrestlers know that he is willing to do whatever it takes for them to be successful young men and not just talented wrestlers.
"Our boy's train together, support each other and pick each other up when things are not going as planned," said Stewart. "In the end, the team essentially becomes a second family to these young men."